German Shorthaired Pointer hunting dog, training, breeding, and puppies.

"Shining Star GSP is dedicated to breeding, training, and the raising of German Shorthaired Pointers for hunting and companionship."

FINISHED & STARTED DOGS

FOR SALE

I'm pleased to announce the breeding of Shining Star Bodacious Bailey NA-II (call name Bailey) and Shining Star The Empire Strikes Black MH NA-I (call name Striker).  Bailey is a NAVHDA NA Prize II recipient.  She possesses an incredible nose, outstanding drive, and one of the best crippled bird finder's I have ever seen.  Striker is an AKC Master Hunter and NAVHDA NA Prize I recipient.  He has always amazed me with his ability to learn tasks at a very young age.  He loves to train and he loves to find birds even more so.   He is a proven producer of intelligent puppies with tons of desire, great noses, and loving personalities.  This litter is expected to whelp on 05/16/2018.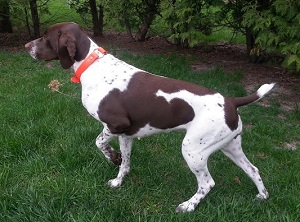 Occasionally I will have started dogs available for sale.  At this time, I do not have any started dogs available.  Please check back sporadically for availability.

Shining Star

Bodacious Bailey NA-II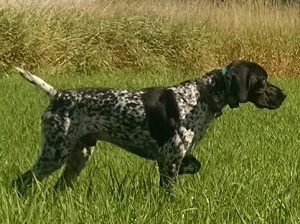 Shining Star

The Empire Strikes Black MH NA-I