German Shorthaired Pointer hunting dog, training, breeding, and puppies.

"Shining Star GSP is dedicated to breeding, training, and the raising of German Shorthaired Pointers for hunting and companionship."

FINISHED & STARTED DOGS

FOR SALE

I'm excited to inform you of the announcement of the breeding between Shining Star Bodacious Bailey NA-II (call name Bailey) and Shining Star Captain Jack MH (call name Jack).  Bailey is a NAVHDA NA Prize II recipient.  She possesses an incredible nose, outstanding drive, and one of the best crippled bird finder's I have ever seen.  Titling Jack was a pleasure.  Watching him work birds with a drive that won't quit and a nose that other dogs would beg for is something to behold.  Bailey and Jack are both super friendly and truly love to please people.  Together, these two dogs will produce some of the finest German Shorthaired Pointers.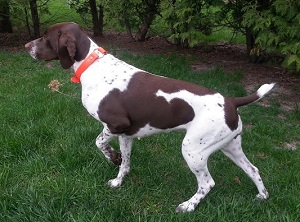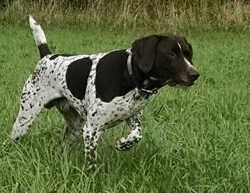 Shining Star

Bodacious Bailey

Shining Star

Captain Jack MH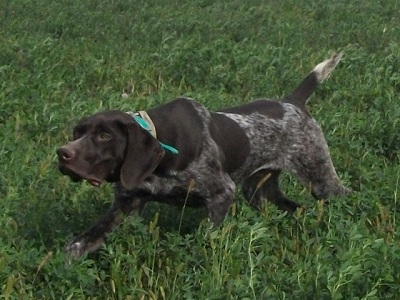 Shining Star Jar Jar Binks MH

Binks was born 01/17/2011 and is the product of a phenomenal line breeding from Top Gun Kennel (which has extensively used Hillhaven's Hustler in their line) on the sire's side and Dixieland on the dam's side.  These two superior lines of genetics have brought us a wonderful dog with tons of nose, desire, and the willingness to please.  Binks passed the NAVHDA Natural Ability test with a perfect 112 points for a Prize I.   He also earned his AKC Master Hunter title in October 2013.  He is available for stud to approved females.

Please see Binks' pedigree.

Shining Star Oh What a Mischief Maker

Mischief is a sensational hunting and companion dog, with a sweet personality, eager to please, trainability, and desire.

Please see Mischief's pedigree.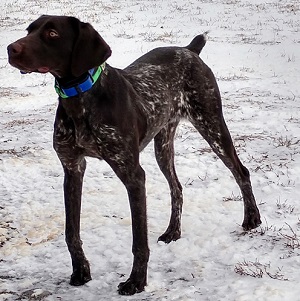 Shining Star Wishes From Heaven

Wishes is a sweetheart who loves to play.  In the field, she is all business with a great desire to please and find the birds.

Please see Wishes' pedigree.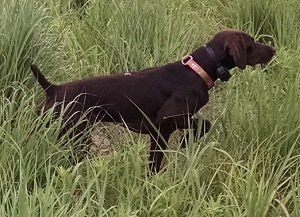 Shining Star Wookiee Warrior Chewbacca

Chewie is the product of two amazing dogs.  He has proven to be every bit as good as his parents.  Chewie is much more than your average game farm bird dog - he is a wild bird hunting dog who I believe maybe one of the best you will ever see.  He is a three year old neutered male, who is fully up-to-date on his vaccinations.  He is for sale for $3000.00.  Serious inquiries only please.

Please see Chewie's' pedigree.