German Shorthaired Pointer hunting dog, training, breeding, and puppies.

"Shining Star GSP is dedicated to breeding, training, and the raising of German Shorthaired Pointers for hunting and companionship."

FINISHED & STARTED DOGS

FOR SALE

I'm excited to announce the repeat breeding of Grouse Point's Shining Star Sassy Vixen (call name Vicky) and Silver Dollar's Shining Star Jedi Master MH (call name Jedi).  These are two exceptional dogs who have produced amazing puppies in the past.  Vicky and Jedi are both proven and tested hunting dogs.  They are also both wonderful companions.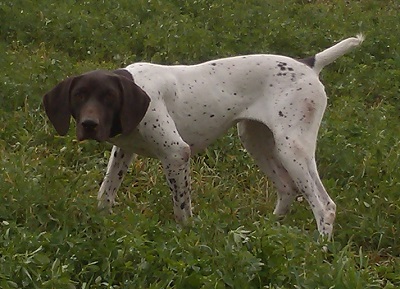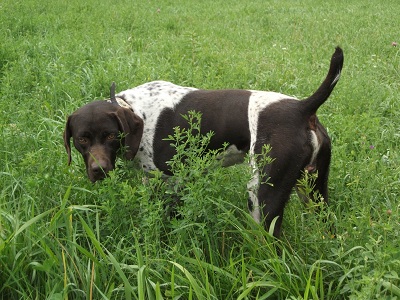 Occasionally I will have started dogs available for sale.  At this time, I do not have any started dogs available.  Please check back sporadically for availability.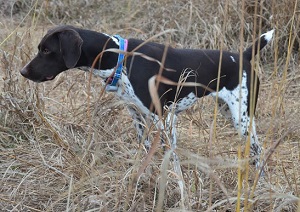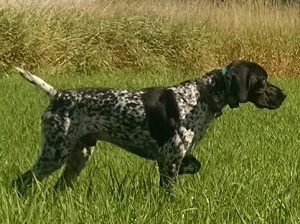 I am excited to announce that Kelsey Sambs has repeat the breeding of Shining Star Ms. Mya (call name Mya) to Shining Star The Empire Strikes Black MH NA-I (call name Striker).  Mya is an incredible dog who is the spitting image of her mother (Shining Star Mustang Sally NA-I) – a nose that won't quit,  more style than you can shake a stick at, uncompromising bird-finding ability, and the sweetest baby in the house.  Striker is an AKC Master Hunter and NAVHDA NA Prize I recipient.  Striker has always amazed me with his ability to learn tasks at a very young age.  He loves to train and he loves to find birds even more so.   He is a proven producer of intelligent puppies with tons of desire, great nose, and loving personalities.  This litter is expected to whelp on 03/13/2018.  Please contact Kelsey Sambs at 920-723-8772 or kelseysambs@gmail.com for an opportunity to reserve a puppy from this litter.

Shining Star

The Empire Strikes Black MH

Grouse Point's Shining Star

Sassy Vixen

Silver Dollar's Shining Star

Jedi Master MH

I'm excited to inform you of the announcement of the breeding between Fergie's Mess Idaina Kijihanta JH (call name Kiji) and Shoot For The Moon's Dark Eclipse (call name Lucifer).  Kiji is fun to be around, sweeter than apple pie, and a phenomenal hunter.  Her first litter produced amazing puppies.  Lucifer has an excellent disposition, high prey drive, an exceptional nose, and is very willing to please.  His intelligence level is off the charts, which made his training very easy.  Together, Kiji and Lucifer will make some of the finest German Shorthairs.  To reserve a puppy from this litter please contact Tina Ferguson at tsferguson67@gmail.com.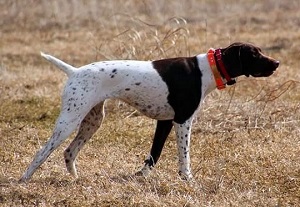 Fergie's Mess

Idaina Kijihanta JH

Shoot For The Moon's

Dark Eclipse

Puppies were born 01/23/2018 - There is still 1 male available!